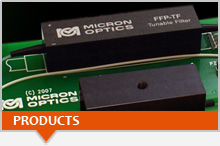 The Micron Optics Fiber Fabry-Perot Tunable Filter (FFP-TF) features an efficient low-loss, all fiber design that delivers the highest optical resolution in a small, rugged, Telecordia qualified package.
Micron Optics high-speed, wavelength-swept laser sources emit high power at rapid sweep rates across a wide wavelength range in each of the 1060nm, 1310nm, and 1550nm spectral windows.
Through its tunable filters and swept lasers, Micron Optics enables manufacturers to efficiently and confidently deliver innovative solutions for applications in a variety of markets, including:
Bio-Medical
Industrial Imaging
Test & Measurement
Telecommunications
Micron Optics' patented all fiber Fabry-Perot (FFP) technology is the basis for its Tunable Filter and Swept Laser products.
All-fiber construction. No lens or suspended mirrors.
Efficient low loss design delivers high finesse, resolution and power handling performance
Customizable bandwidths for signal filtering
Press Release
March 30, 2012 -- Micron Optics expands global sales and system integrator network
Press Release


February 29, 2012-- Micron Optics expands product & technology team

In

the News
New Device Saves Vision Before Glaucoma Hits
Upcoming Event
Photonics West 2013
February 5-7, 2013
San Francisco, CA, USA