TEST & MEASUREMENT
At the heart of Micron Optics' product offering are Fiber Fabry-Perot Tunable Filters (FFP-TFs) which lead the world in performance, quality, and reliability. Today, thousands of Micron Optics FFP-TFs are employed within a variety of customer-built-and-branded measurement instrument designs.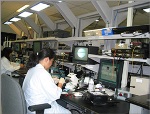 Micron Optics is pleased to provide attractive OEM solutions that include FFP Tunable Filters, FFP Tunable Filter and Wavelength Reference Kits, and FFP Tunable Filter based Swept-Laser Sources to all interested module, instrument, and system builders. Contact us to learn more.
Ideal test & measurement applications for Micron Optics component and module building blocks include:
Telecom Optical Spectrum Analyzers
Biotech Optical Coherence Tomography Systems
Bio-Chemical Optical Spectroscopy
Quality Inspection Scanning Interferometers
Sensing Interrogators
Microwave Photonics Systems
Aerospace and LIDAR Systems
Defense and Security Systems
Visit the Document Library to read more about these and other Test & Measurement applications.
Press Release
March 30, 2012 -- Micron Optics expands global sales and system integrator network
Press Release


February 29, 2012-- Micron Optics expands product & technology team

In

the News
New Device Saves Vision Before Glaucoma Hits
Upcoming Event
Photonics West 2013
February 5-7, 2013
San Francisco, CA, USA